7,775
companies
Flanders has 7,775 companies that produce ware potatoes.
314
million euros
In Flanders, potatoes represent a production value of 314 million euros.
66%
Flanders
Potatoes are produced above all in the northern part of Belgium: Flanders represents 66% of the production value of Belgian potatoes.
Flemish potato cultivation: between tradition and innovation
Belgium has a rich tradition in potatoes that has seen spectacular development since the end of the 20th century. Above all in the northern half of the country, Flanders, the ideal soil and growing conditions and optimum climate form the basis of successful potato production. Professional know-how throughout the entire chain, constant innovation and a detailed quality system ensure excellent potato quality.
The mix of tradition and innovation forms a healthy basis for trading with the flexible, family-run businesses.
Wide range
You can buy a wide range of potato varieties from the Belgian potato export company. Looking for new potatoes, late potatoes, red potatoes, waxy potatoes or floury potatoes? Contact your Belgian supplier or look for a suitable partner in our database.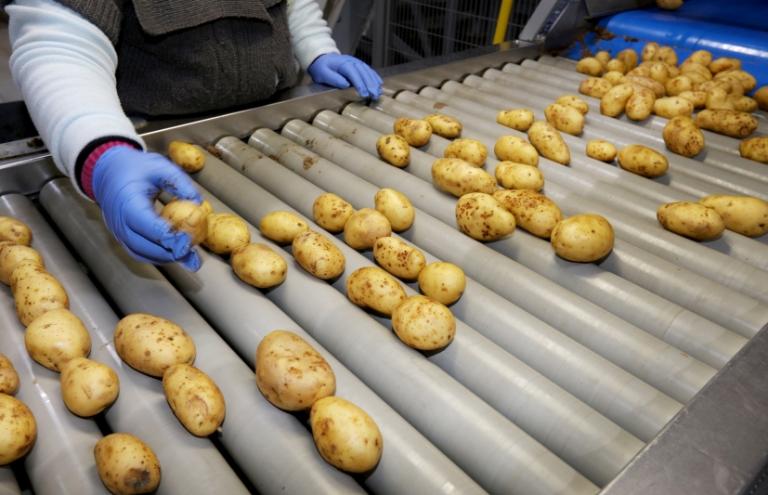 Inspection of

Flemish potatoes
The competent authorities have created a framework that makes it possible to carry out strict checks on the quality of Flemish potatoes in accordance with the strictest European standards.
Thanks to the Vegaplan standard, farmers can market a product that meets the standards relating to food and plant safety and sustainability.
Trade can fall back on various private quality systems and on the self-checking guide for trading in and processing potatoes, fruit and vegetables. The self-checking guide has also been recognised by the Belgian Federal Agency for safety of the Food Chain (FASFC).
A sampling plan for the sector by Belgapom, also validated by the FASFC, forms the basis for guaranteeing the absence of contaminants and organisms harmful to plants.
In addition, each link in the chain is constantly working on quality assurance and improvement in its own domain: environmentally-friendly cultivation, potato-friendly harvesting, computer-controlled storage and ventilation technologies, up-to-date packaging lines, constant training and research, taste tests, etc.
Traceability
Traceability plays a key role in guaranteeing that food is safe, since it is always possible to trace the origin of a batch of Flemish potatoes. The goal is to guarantee food and plant safety.
Compulsory internal traceability within each company forms the link for each batch of potatoes or potato products right back to the parcel they were grown on and the seed potatoes used.
Sustainability
Soil management, crop registration, parcel history, crop protection, etc. these terms are all too familiar to Belgian companies.
Crop registration entails the registration of seed potatoes, parcel history, fertilisation, irrigation, crop protection, harvest, post-harvest treatment, waste and environmental management, hygiene and safety of the employees. And all of this ensures that sustainability runs through Belgian potato production as a leitmotiv. In addition, good use is also made of innovative technologies on the basis of precision farming and remote sensing.
Flexibility
Export starts with personal contact with the Belgian entrepreneur. Your Belgian potato supplier offers fast and accurate customised solutions, excellent service and smooth delivery to every corner of the world.
Smooth transport inside and outside Europe
Flanders has a unique transportation network thanks to its extensive rail, road, water and air infrastructure and it furthermore benefits from a central location in Europe. This promotes the smooth import of Flemish potatoes, both inside and outside Europe.